Looking for places you can visit in Dubai at night to beat the heat? Look no further, your search has finally come to an end! Dubai after sunset is heaven with glittering lights that completely transforms the city. One may think of it as thousands of starts shining bright in a galaxy. The magic of this city comes alive as the sun sets on the beautiful horizon. From Overnight desert safaris to the countless nightclubs to the many beautiful and marvelous attractions with ultra-modern architecture, there is no end to what Dubai has to offer with the best sightseeing tour packages.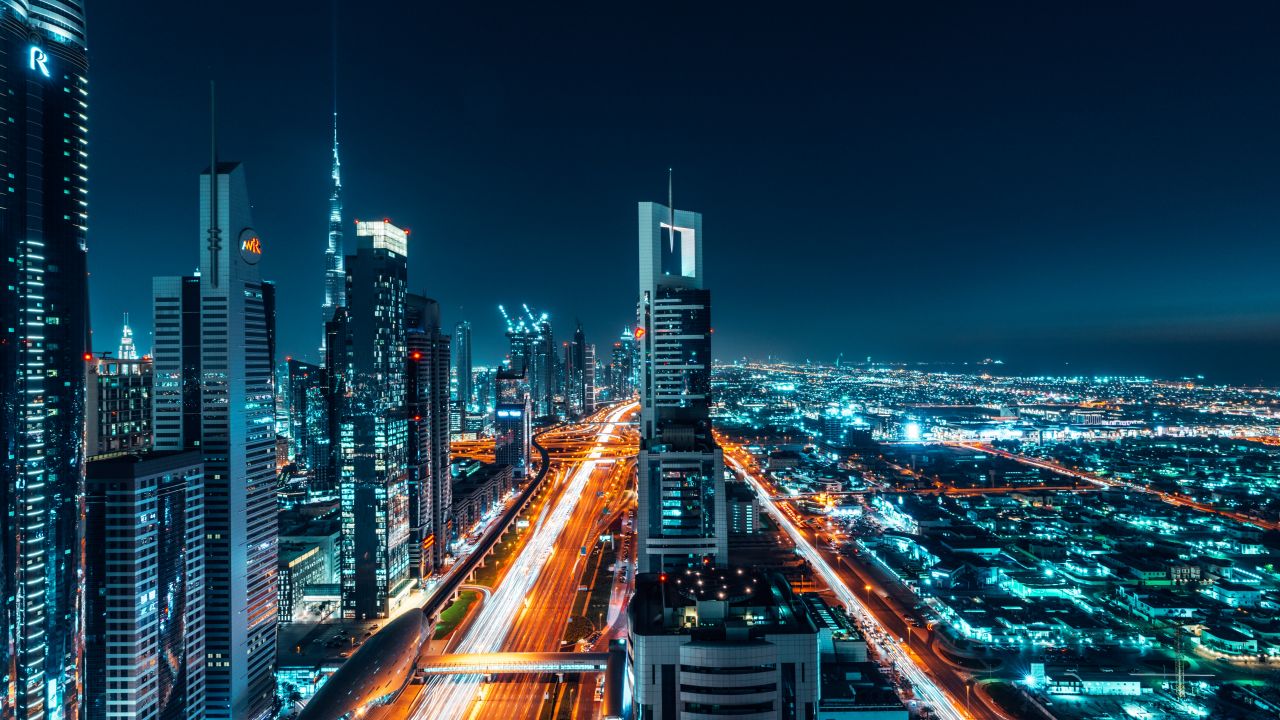 Best Places to visit in Dubai at Night
Still confused as to where to go in Dubai at night? Here are our top picks of some of the best places to visit in Dubai at night for you.
1. Ski Dubai at Mall of the Emirates (MOE)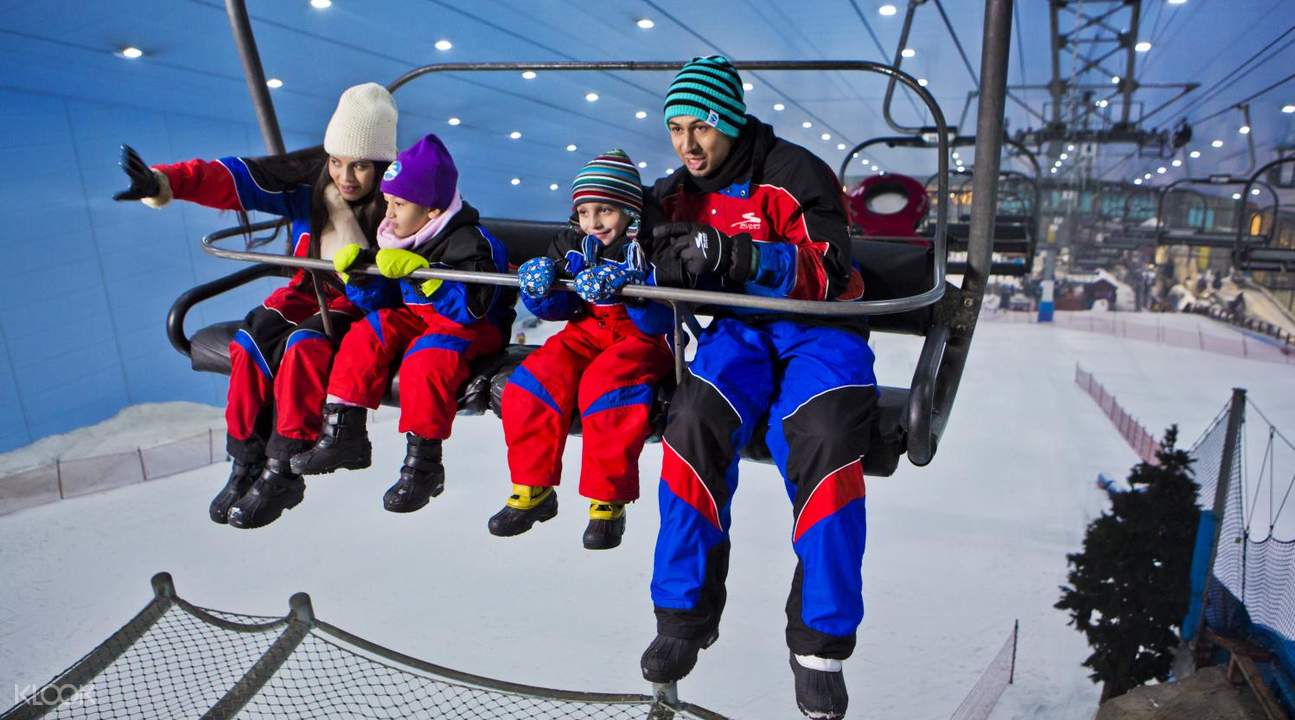 Ski Dubai in the Mall of Emirates is nothing short of a wonder-land. It's an awesome snow park that includes five slopes of different heights and sizes and a huge skiing area. Snowboarding, skiing and tobogganing are some of the fun activities you can do here. Don't worry about the clothes and accessories as Ski Dubai provides you with everything you need to be comfortable in the cold temperatures inside. From boots to jackets and gloves to helmets, everything is given right before you enter the park. No matter what your age, Ski Dubai and Snow World offers entertainment to everybody. for a night sightseeing in dubai be sure to visit Ski Dubai.
Location: Mall of the Emirates, Sheikh Zayed Road
Timings: Sun to Wed 10:00 am – 11:00 pm; Thurs 10:00 am – 12:00am; Fri 9:00 am – 12:00am; Sat 9:00 am – 11:00 pm.
2. Burj Khalifa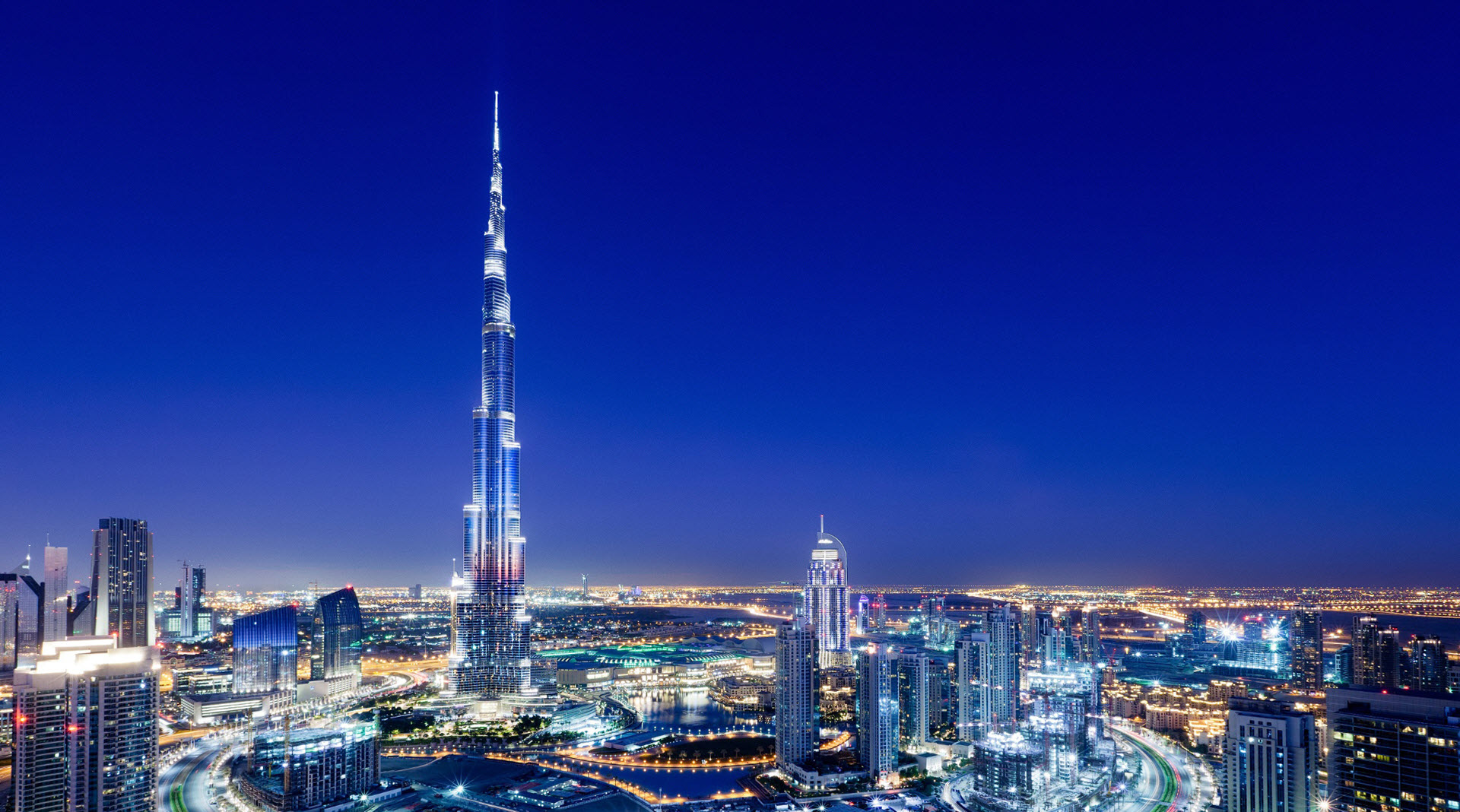 "World's tallest building, A living wonder, Stunning work of art, Incomparable feat of engineering" Burj Khalifa is all that and much more in concept and execution. It has no peer.
At level 124: Be thrilled by the world's fastest double deck elevators, cruising at 10m/s. Watch in amazement as specially designed projections in the elevator give you the feeling of flying over global landmarks as you ascend to Level 124. Take a closer look at the world below through avant-garde, high powered, telescopes placed on the 124th and 125th floor observatory deck. Step out onto the public outdoor observation terrace overlooking the ever growing skyline of Dubai. Burj Khalifa 124th floor is a thing to see in dubai at night.
Location: 1 Mohammed Bin Rashid Boulevard, Downtown Dubai
Timings: Evening Slot- 7:00pm to 11:00pm
Also read: Landmarks To Visit In Dubai
3. The Dubai Fountains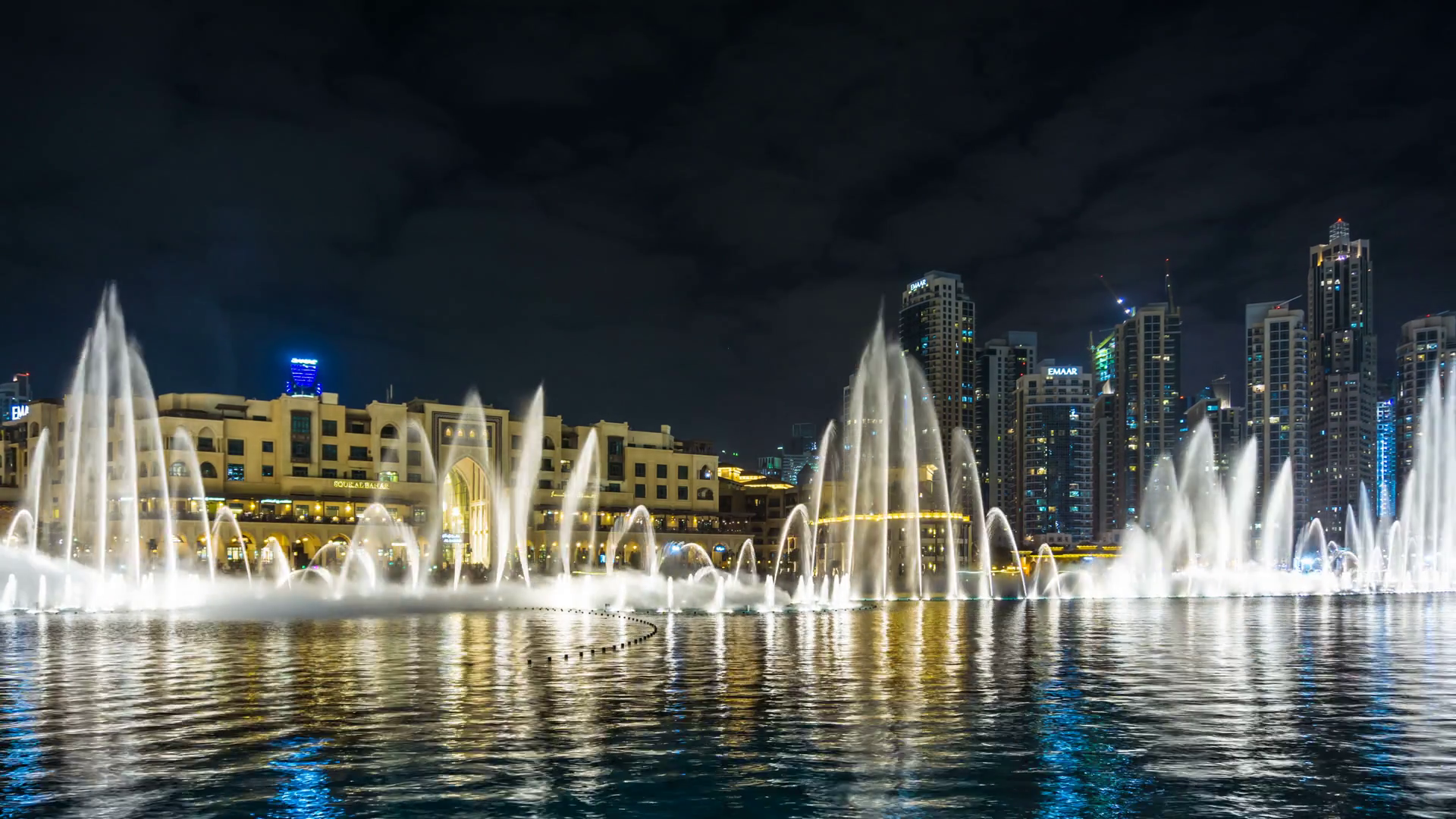 The Dubai Fountain is the tallest performing fountain in the world! It performs to various melodies varying between classic, contemporary and world music and has a light show every 30 minutes that compliments the dancing waters. its the best night places in Dubai. Dubai Fountain is a must-visit and a fun thing to do in Dubai at night. It's located on the Burj Khalifa Lake. And the best part you can witness all of the amazing water art, dancing lights for free! Yes you read it right, it's free. But if you want to get a personalized experience and get up close, we got you covered on that too. You can book your fountain boardwalk tickets or fountain boat ride tickets and experience the magic up close.
Location: Dubai Mall, Sheikh Mohammed bin Rashid Boulevard – United Arab Emirates
Timings: All Days- 6:00pm to 11:00pm
4. The Arabian Desert Overnight Safari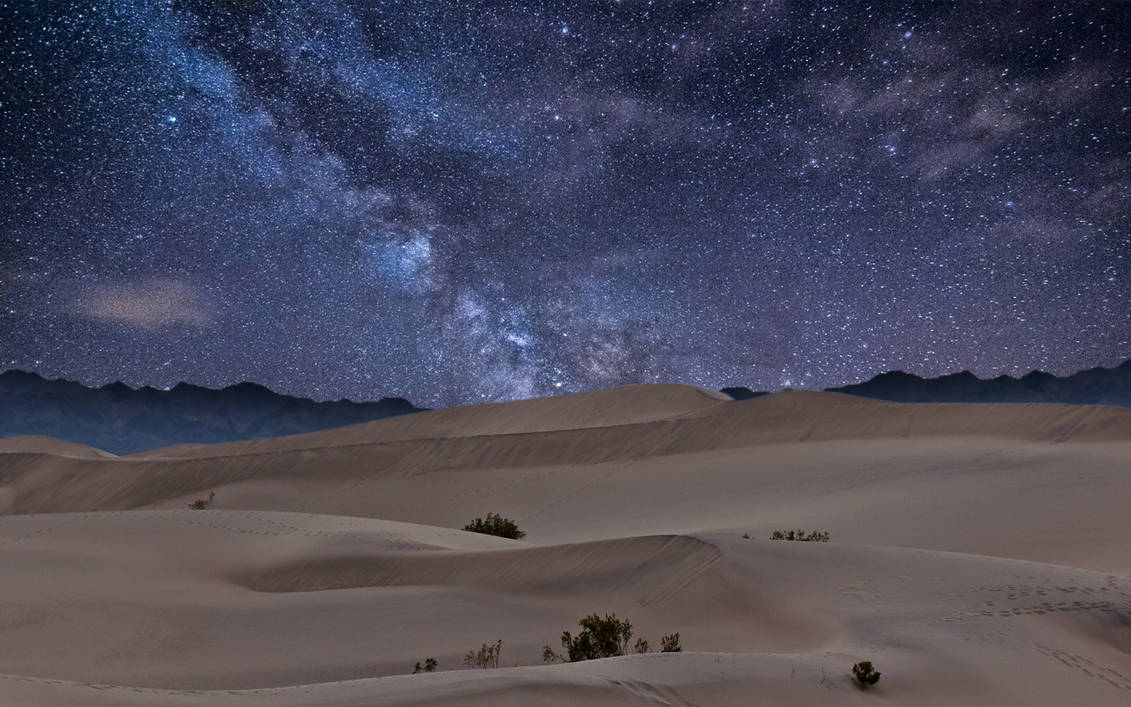 If you visit Dubai and don't spend a night in the Arabian Desert then have you really experienced Dubai? A night in the desert camp out in the Arabian Desert for an evening of Emirati entertainment and exhilarating adventure is a must-do in Dubai. Try out dune bashing and camel riding, sand skiing, quad biking by day, before enjoying sumptuous authentic meals and traditional performances by night. The cherry on top is the breathtaking desert sunset and sunrise. Take this exciting overnight desert safari with your family to experience the Bedouin culture and stargazing. This surely is one of the best things to do in Dubai at night and the best night life in Duabi.
Desert Safari Camps in Dubai: Overnight Deseret Safari
Timings: 3:30 pm to 4:00m pick-up (duration-16 hours)
Also read: All About Warner Bros Theme Park Abu Dhabi
5. Dubai Aquarium & Underwater Zoo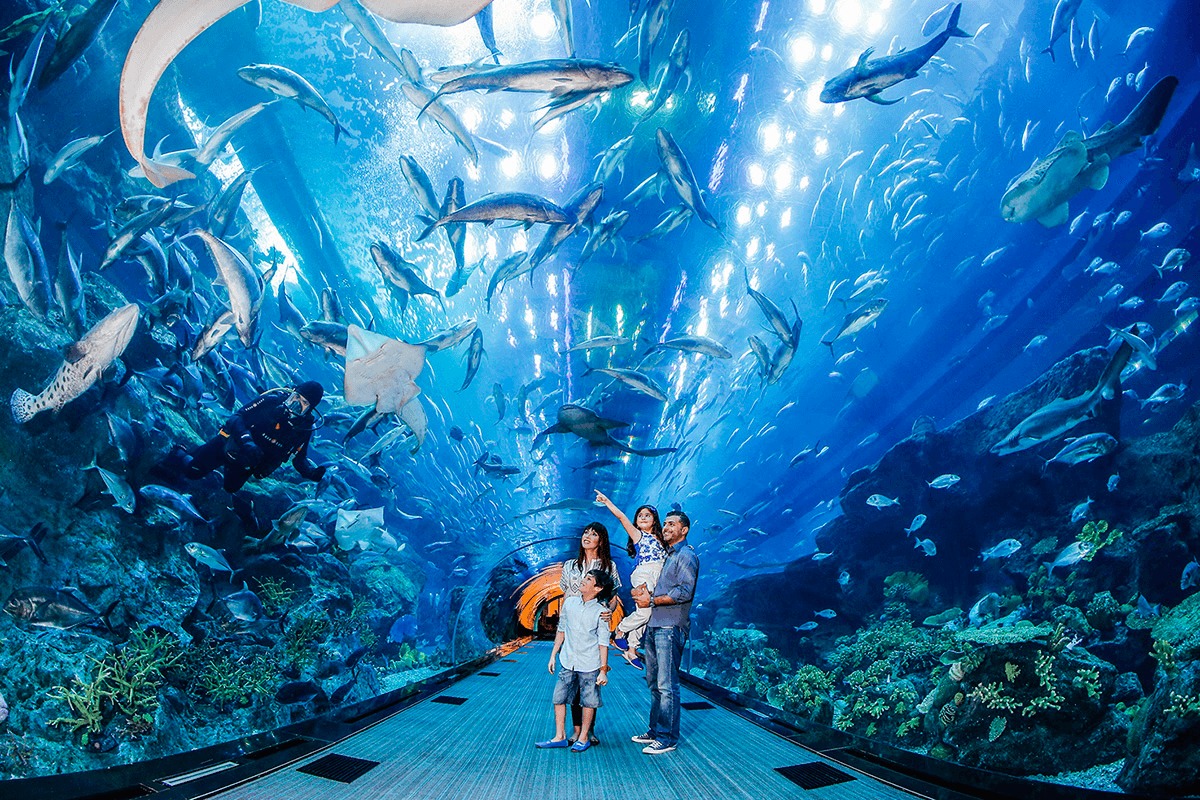 Dubai aquarium and the underwater zoo is located on the ground floor of the Dubai Mall. It is one of the largest suspended aquarium in the world. Thousands of aquatic animals, 300 sharks, sting-rays and over 140 species swim freely in this aquarium. The largest collection of Sand Tiger Sharks in the world can be found here. Experience the real thrill and get up close and personal with the world's most amazing animals in their natural habitat with Virtual Reality Zoo (VR Zoo).its the best night place in Dubai.
Location: Dubai Mall, Level 2
Timings: Monday to Friday- 10:00 am to 11:00 pm; Saturday and Sunday 10:00am to 12:00am.
6. Dhow Cruise - Dubai Creek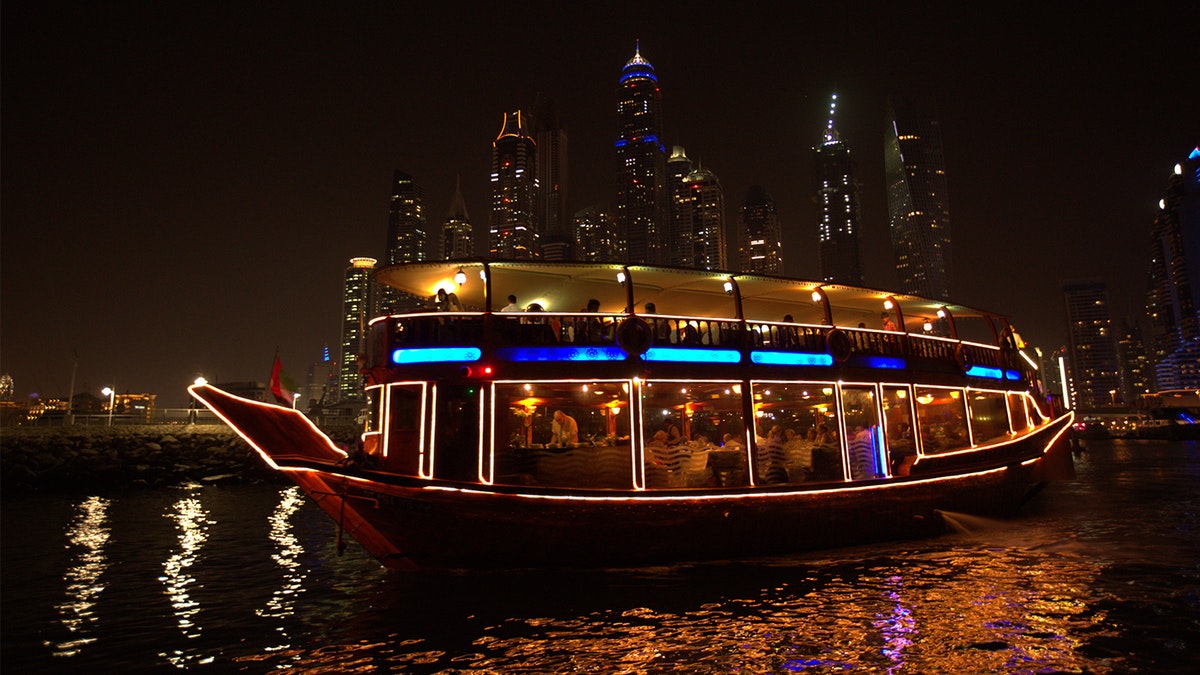 Dhow Cruise offers a romantic and thrilling cruise along the historic Dubai Creek with its scenic views all around. The most interesting part of the cruise is that the dhow itself creates a magical setting with its intricate design and the artistic wooden carvings that reflect life in the olden days. Cruise down the serene waters of Dubai Creek in the Dhow Cruise, a Dubai night experience that cannot be forsaken. Keep your party live all the time while enjoying the comforts on board. Indulge royally, admiring the stunning vista of Old and Modern Dubai. Enjoy a delectable dinner amidst the enchanting Dubai lights onboard, basking in the tasteful music and an alluring Tanura Dance show for a complete cultural experience of the luxurious Dubai city at night. If you don't wish to go on a cruise ride, you can simply hang out near the waterfront to watch the glistening city skyline, which is one of the best things to do in Dubai late at night.
Location: Dubai, United Arab Emirates
Duration: 2 hours (approx.)
Also read: A Complete Guide for a Day at Motiongate Dubai Theme Park
7. Lost Chambers Aquarium – Atlantis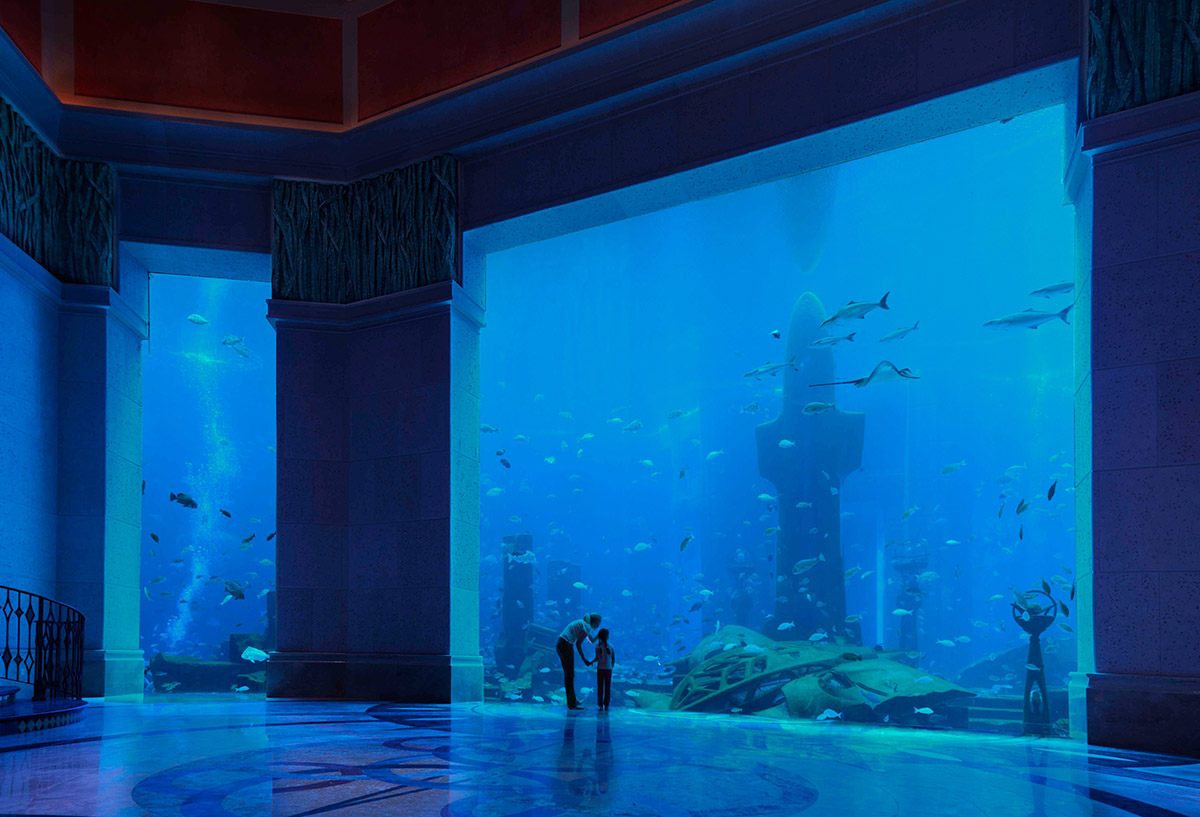 Surround yourself with sea life in a jaw-dropping walk through the glass tunnels of The Lost Chambers Aquarium at Atlantis the Palm. Sharks, stingray, piranhas, lobsters, and the tiniest seahorses are some of the creatures you will come face-to-face within this magnificent underwater world. Lost Chambers Aquarium is designed around the theme of the Lost City of Atlantis. The underwater tunnels serve as an experience into this lost civilization with shipwrecks and ruins. 10 beautiful chambers are inhabited by 65,000 amazing and colourful marine animals that you will ever experience seeing at one location. The aquarium includes a touch tank where you can pick up a starfish or caress a sea cucumber.
Location: Atlantis, The Palm Dubai
Timings: All Days- 10:00am to 10:00pm
8. Gold Souks & Spice Markets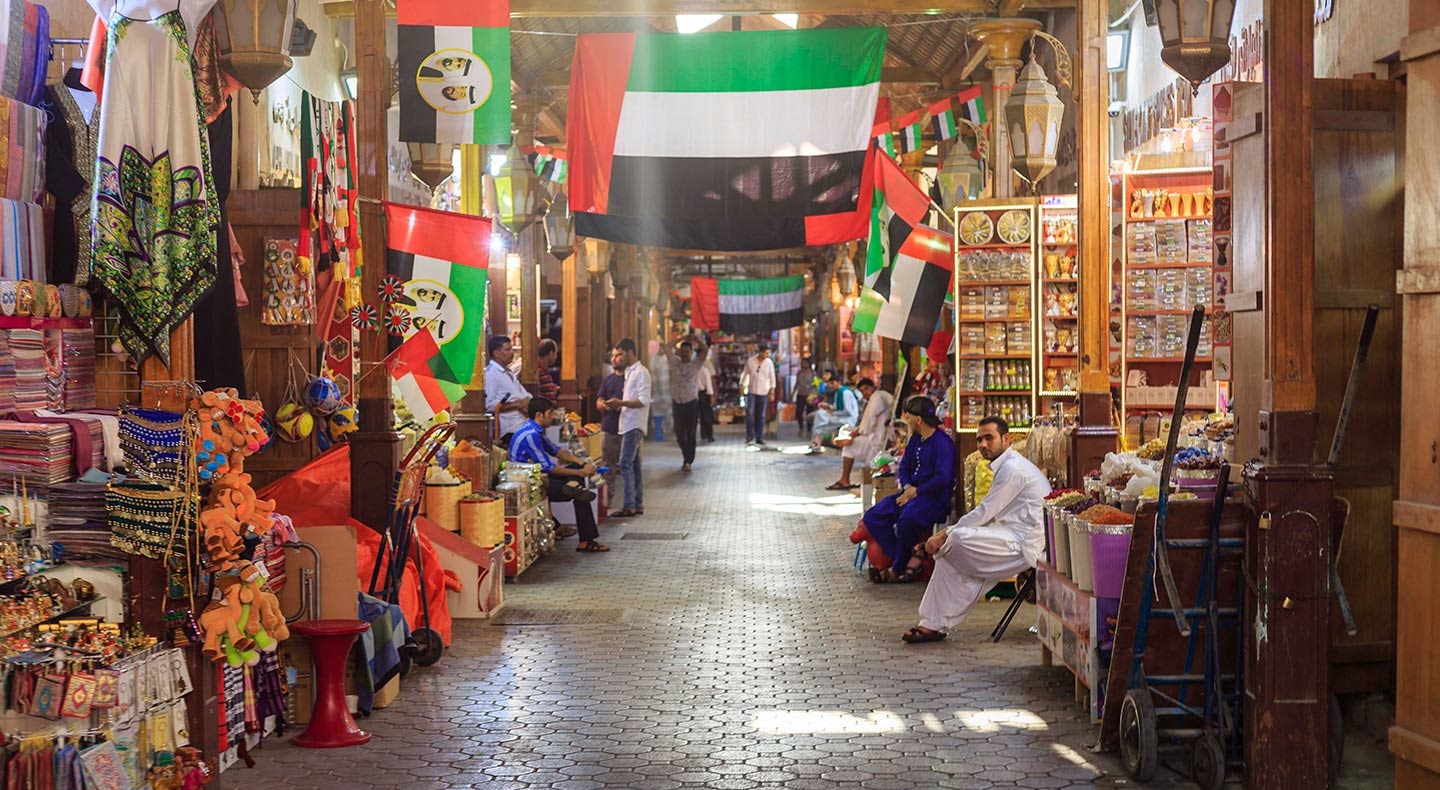 Amongst the many places to visit in Dubai at night, Gold Souks and Spice Markets is also a must-see. See tons of gold ornaments like bangles, rings, watches and more at the Deira' s famous Gold Souks. You can even make this visit special by gifting a gold ornament to your loved ones. Take in the aroma of the Middle-Eastern spices and herbs at the many spice markets and souks as you walk by. Fill your pantry with exotic spices and herbs. Other than these souks and bazaars, you can also visit the Dubai Night Market.
Places To go in Dubai At night
Also read: Worlds Largest Ferrari Branded Amusement Park
9. Malls in Dubai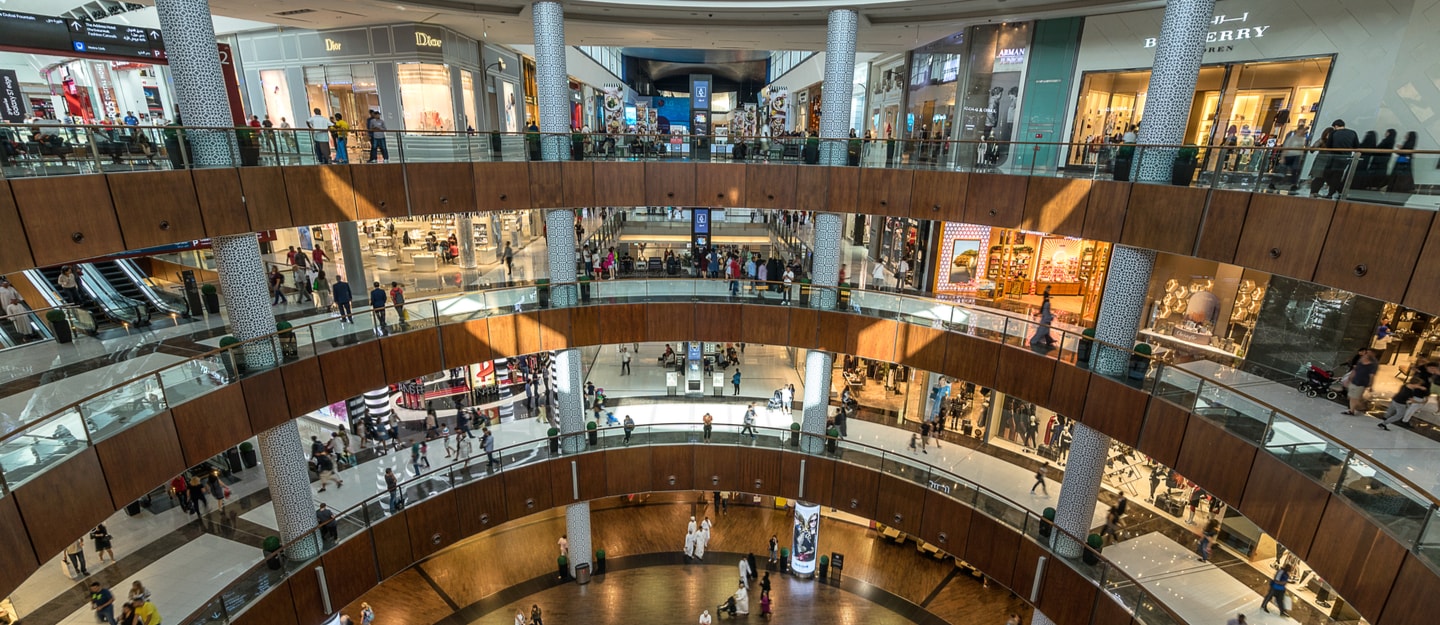 Known as the International Shopping Destination of the world, Dubai has the best selection of well-stocked malls that cater not only to the shopaholics and the ones obsessed with spending but offer a wide range of activities like bowling, skiing, amphibious bus ride and many more, never leaving you to wonder what to do in Dubai at night. If you don't wish to buy anything, these malls still make up for some of the best places to visit in Dubai at night for free where you can still roam under the gorgeous and luxurious architecture.
Major Shopping Malls In Dubai: Mall of Emirates, BurJuman Center, Ibn Battuta Mall, Wafi Mall, The Dubai Mall, Mirdiff City Center, Dubai Marina Mall
Places to see in Dubai at night
10. Jumeirah Beach Residence Walk and Dubai Marina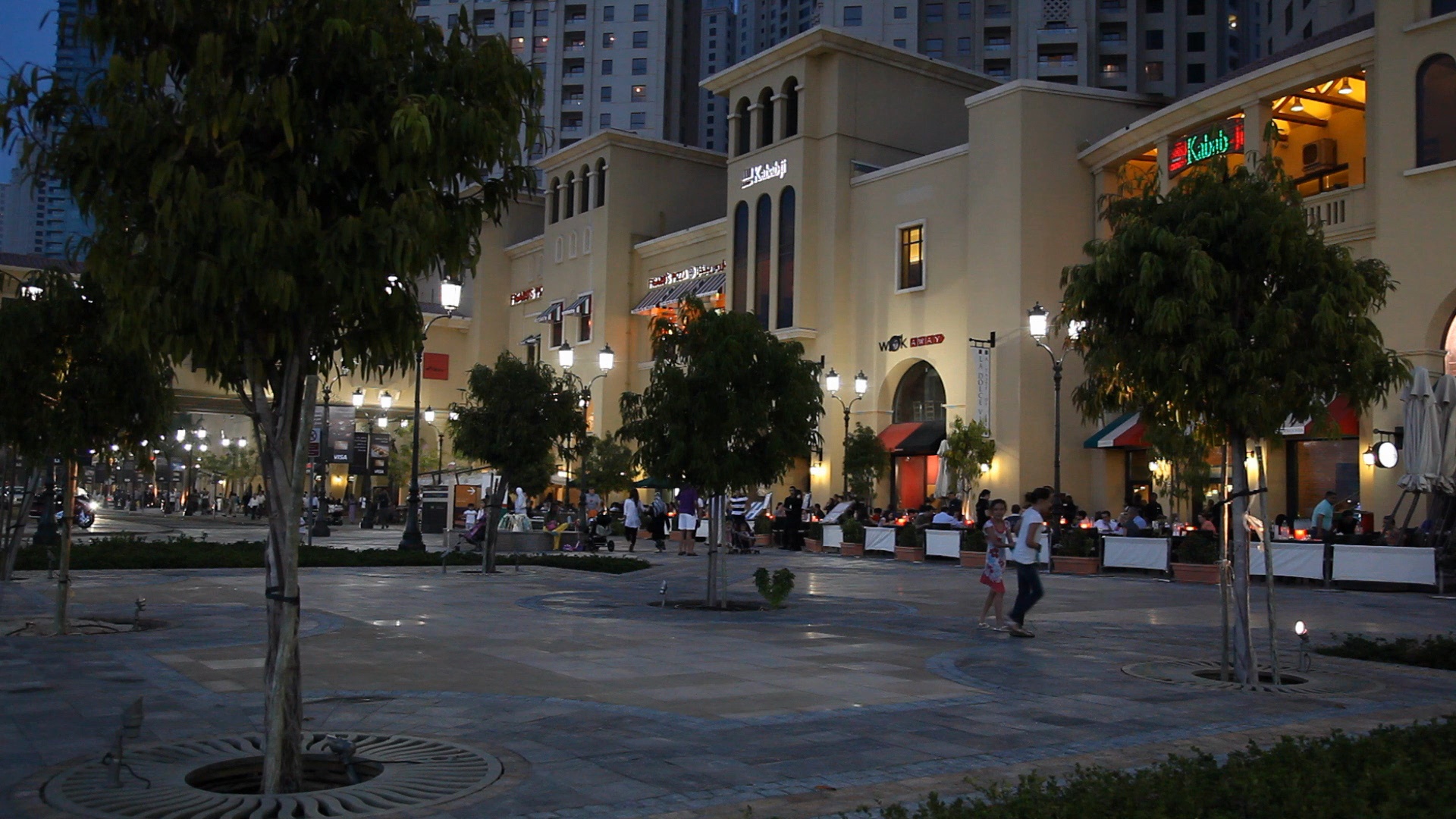 This man-made marina is surrounded by multitudes of skyscrapers that illuminate the city sky with their dazzling light at night. The Jumeirah Beach Residence Walk accompanying the marina is a hotspot of cafés, restaurants and the best nightclubs in Dubai, that add to the glamour of this luxurious city. This is an ideal place for a relaxing evening with family and friends. What makes this place so incredible is that it is one of the best places to visit in Dubai at night for free.
Location: Jumeirah Beach Residence, Dubai, United Arab Emirates
Places in Dubai to visit at Night
Also read: Why IMG World is so Famous?
11. Al Habtoor Super club BOA
Story at BOA Taking place at the Al Habtoor city super club, Story ladies' night offers unlimited free drinks for ladies from doors opening at 11pm until the club closing at 3am. The urban night sees popular Dubai DJ Devon Kosoko take up deck duty, spinning urban hits sure to fill the floor all night long.
Places to go in Dubai at Night
12. Cavalli
Cavalli A decade-long and still going strong, Cavalli is arguably one of Dubai's longest-serving nightclubs. Head down on Monday where there's unlimited drinks for ladies all night long. It's a commercial music policy that aims to keep you on the dancefloor, plus there's a special ladies' night three-course set menu for Dhs150 for the girls.
Dubai by night
13. Toy Room
Toy Room Frank the bear is causing mischief at his brand new home in the Meydan nightlife complex, Soho Garden. Every Monday, ladies' can enjoy unlimited free drinks at Toy Room from doors opening at 11pm until 1am, alongside a hip-hop music policy.
Dubai Night Attraction
14. Pier 7
Ask almost anyone where the best place for ladies' night is on a Tuesday, and they'll tell you Pier 7. A ladies' night at this Dubai Marina tower is a rite of passage for any new expat in Dubai. Start at Mamazonia on the second floor, then make your way to Cargo on Level 3, The Scene on Level 4, Asia Asia on Level 5 and finish off your night at the top – Atelier M. Each offers a different ladies' night deal, and you can make your way up the tower without having spent a dirham.
15. Penthouse
We love a visit to The Penthouse every day of the, but Tuesdays are arguably their most popular. On ladies' night, girls can enjoy three free drinks from 6pm to 9.30pm, with regular fashion shows taking over the lively, adults-only rooftop. Can't make it on a Tuesday? Head down for their Thursday evening house night.
17. Ramusake Ramusake
Ramusake Ramusake has stood the test of time. Two years after launching Miss Independent, you can still expect to queue if you want to get in on a Wednesday at this Japanese hotspot. Tunes to get you dancing, sparkler shows every five minutes and free-flowing wine for ladies? You've got yourself a recipe for a brilliant ladies' night.
18. Mr. Miyagi's
Mr. Miyagi's Whether you're taking advantage of their brilliant ladies' night offer in the restaurant or making your way to the bar late at night for the inventive weekly shows, there's no better Wednesday night out than Mr Miyagi's Wednesday ladies' night. In the restaurant, ladies pay Dhs99 for two hours of free-flowing drinks and three courses of Asian dishes, while guys pay Dhs99 for three courses and a drink. Head over to the bar from 8pm where guys and girls are treated to a complimentary drink on arrival each, while ladies pay Dhs99 for unlimited drinks thereafter.
19. Soho Garden
Soho Garden brings brilliant vibes to its 'Thursdays at Soho' event every Thursday. The closest you'll get to a nightclub that isn't a nightclub, the sprawling outdoor bar packs out with partygoers eager to enjoy the sounds of an international DJ that spins each week.
20. Sky2.0
Lebanon's iconic Sky Bar arrived in Dubai Design District to much fanfare. The alfresco nightclub is open three nights a week between Wednesday and Friday, with Thursday dedicated to its signature night. It's a glamorous party crowd, but make no mistake, people are here for the music.
21. STK
What makes STK Downtown's brunch brilliant? Just ask the endless queues of people trying to get a table a month in advance. The food is fantastic, drinks flow freely, and you'll go a long way to beat the lively vibe, brought to you by commercial DJ sets, live sax and dancers. Secret Garden Brunch at Flair No.5 It might be new to the party, but Secret Garden Brunch has already bloomed into one of the city's go-to Friday afternoon fiestas. As well as pop-up bars serving colourful drinks, entertainment from a magician and live sax, and resident DJs that'll have all guests on their feet by the end, you'll feast on no less than a dozen delicious sharing dishes.
22. Blue Marlin Ibiza UAE
Blue Marlin Ibiza UAE firmly put house music on the map in the UAE when it opened seven years ago. Every weekend, it brings brilliant events and top DJs to the city, with everyone who's anyone having spun at the Ghantoot Beach club over the last few years. It's an earlier finish than most at 11pm, but don't let that put you off – it's a brilliant party that livens up from sunset.
23. Drai's
You might not have thought Dubai needed another alfresco super club, but that was until Drai's arrived to fill a void you didn't even know existed. The Las Vegas export had a lot to prove with such a huge reputation in the US, but they have delivered and then some. With the biggest names in hip-hop regularly headlining the stage to a sold-out crowd of fans, this is THE place to be on Fridays.
24. Zero Gravity
Zero Gravity's legendary Saturday brunch kick started the Saturday daytime partying scene in the city. The all-inclusive package starts from midday, and offers up a five hour package priced at Dhs249 for ladies and Dhs299 for guys. For the food, there's a menu of international buffet dishes on offer, from cold sushi to pizzas, burgers and curries. Drinks wise, it's an unlimited package served from a collection of pop up bars across the garden. But don't expect the party to stop come 5pm. As well as a two-for-one happy hour from 5pm to 8pm, DJs take up deck duty into the night, with the party carrying on until the early hours.
25. Atlantis Beach Club
Head to House in Paradise's new Saturday ladies' day for a brilliant party in the sunshine. The deal runs from 12pm to 4pm every Saturday, and there are packages for both ladies and gents, starting from just Dhs99. The drinks-only package for ladies' offers four hours of free-flowing house drinks for Dhs99, or upgrade to the Dhs150 package, and ladies can enjoy free flowing Rose, cocktail pitchers, and a choice from the food menu. But this isn't just for the girls. Guys can take advantage of the same package for Dhs200.
26. White Dubai
Pumping tunes, international artists and a wow-worthy production, URBN ticks all the boxes. Add to that the fact that ladies can enjoy complimentary drinks until 1am at the Saturday ladies' night at White Dubai and you've got yourself an award-winning combination, making this an unbeatable night out.
27. Base Dubai
Two party powerhouses have come together for this epic new Saturday night party, and it's a brilliant place to party on the weekend. Crazy Land at Base Dubai is powered by Candy pants and delivers an epic set of 'kaleidoscopic backgrounds of the jungle and sea, stunning pyrotechnics and pumping house and pop music'. It's an open bar for everyone from 10pm to 11pm, with three complimentary drinks for ladies afterwards.
Explore Dubai with CTC Tourism Today!